---
I enjoy doing end of the year lists. I also enjoy doing separate end of the year lists geared toward different audiences. While I am sure people would be interested in the best underground black and death there were other great albums too. I am not saying that power, progressive, symphonic, and traditional metal need to be processed differently, but rather that the individual strengths of each can be experienced when taken to a quiet corner on its own. Additionally, there were some albums that, compared to the rest of the records, may not be the best of 2013 but when processed through a different lens gains critical weight. Perhaps this lens is my desire for epic sounding heavy metal or records that are just too damn enjoyable to deny. It has almost been a year since writing for hollywood metal and I feel it has taken me this amount of time to appreciate this still nebulous genre of epic metal that really doesn't have a strong letter but makes up for it with rousing spirit.
---
5. Tyr – Valkyrja
Released: September 13th, 2013
Website: Facebook
Original Review HERE
I did not expect much from Tyr. Famously, this folk metal band has been synonymous with viking obsessed lore and an album cover catalog that looks all from the same Hero's Handbook. I expected the seventh release from this Faroe Islands based act to be, well, the seventh release. Valkyrja is different, and not just in album cover. Though the album does have a heavy dose of nordic lore, the craft that is put into well worn themes manages to resonate with the listener. There is no one more surprised than me when songs like "Blood of Heroes," "Into The Sky," and "Hell Hath No Fury" proved to be entertaining and rousing anthems from a style I generally approach with much hesitation.
---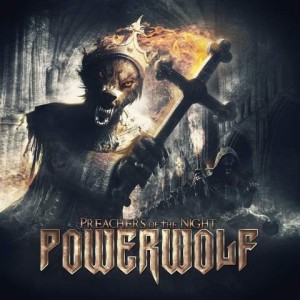 4. Powerwolf – Preachers of the Night
Released: July 19th, 2013
Website: Facebook
One of the largest talking points of Powerwolf seems to be the biblical based lyrics leading to questions on the band's religious standpoint. People also seem to forget they are also talking about werewolves within the context of gothic horror. Maybe they are godfearing werewolves. Despite beliefs of the bands or the existence of demonic beasts, Preachers of the Night is damn silly all of the time as well as completely wrapped up in its own world. Aside from spotless production, the band manages to add to the already catchy template of power metal more hooks filled with gang vocals and soaring cathedral solos that populate a faux catholic interior. Alright, fine, strangest power metal record of 2013.
---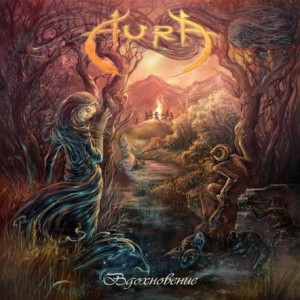 3. Aura – Вдохновение
Released: September 25th, 2013
Website: Facebook
This is why I enjoy doing these types of lists — because it forces me to go find things that were possibly missed by, well, most people. Aura is new and they are from Russia. They have spent their short time on this earth completely obsessed with an odd blend of symphonic gothic opera. While I am usually critical of the harsh/melodic combination, especially when women are cast in the clean role, Aura ducks this trope by presenting a well rounded and polished variety that accents Evgenia Rodnikova's vocals. Oh, also, Aura can be completely genuine in both their harsh and delicate moments without becoming too embroiled in cliche. Вдохновение transports one into a russian fairytale where the darks are untouched and the lights are as dreamy as you can remember.
---
Released: February 22nd, 2013
Website: Facebook
Original Review HERE
I raved about Stratovarious' 14th album when it was released all the way back in February. I completely forgot about it until today. Upon pulling it up however, I remembered why I was so taken with it upon its release. Nemesis follows a cycle of records starting with Polarious in 2008 and Elysium in 2011 that reset the direction of the band following an unsure period in the mid 00's. Caught somewhere between science fiction, fantasy, and a future filled with whatever in the hell is in the background of the album cover, Nemesis is a damn entertaining record which has the ability to catch one by complete surprise.
---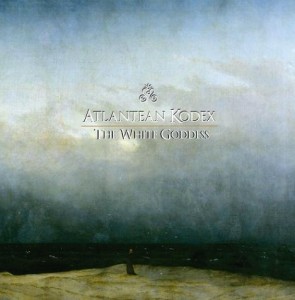 1. Atlantean Kodex – The White Goddess
Released: September 29th, 2013
Website: Official
Atleantean Kodex's second record White Godess was something that passed by me without much notice until the end of the year. Despite the record being released in September it took me all the way until now to realize that it was pretty much tailored for my complete enjoyment. Let us go over everything shall we? Epic traditional doom? Sure. Lyrics that weave in between sword and sorcery as well as mythology? Amazing. A band that does not receive much attention despite crafting a fantastic traditional metal record? I am right there. Atlantean Kodex's style of heavy metal is one that is still cast aside for other harsher or accessible varieties and continues the tradition forged by Candlemass but even started by 70's proto metal titans obsessed with heavy sounds and deep fantasy. This is the best album you still have yet to listen to.
---
Other considerations for the end of the year were Ayreon's very conceptual The Theory of Everything, Avantasia's equally conceptual The Mystery of Time, Timo Tolkki's Avalon's still conceptual The Land Of New Hope, Dark Moors graciously non conceptual Ars Musica and Starkill's kick ass Fires of Life.