This is perhaps one of the first pieces I have done on dungeon synth that is not primary related to music. Music styles and subgenres have visual components which attach themselves whether or not to album, merch, or general motif. The aesthetic of any genre allows the style to grow organically giving it an identity and gives people a chance to identify related objects. Some genres relay heavily on a visual aesthetic which others are loosely held together by a motif. I feel, at this moment, dungeon synth has a general approach to visual art in no way is tied down by a rigid aesthetic. This is important as visual artists working in a style are not replicating any known motif rather working in a spirit which is guiding the music.
Canrith Knox is a dungeon synth enthusiast and visual artist who came to my attention when he started to post hand drawn patches. Working in a very limited amount, Canrith made series of dungeon synth related patches all hand drawn on fabric. Things continued to unfold when Canrith started to make exclusive patches for new artists and record labels which which were using his raw style to compliment their own brand. At this moment, Canrith is working on the borders for the second issue of Barbarian Skull, a popular paper zine which has done its fair share of exploring the dungeon synth style. Canrith was more than pleased to talk to me about his new found position in dungeon synth and over handrolled cigarettes in his garden, we chatted about art, the occult, and the visual art of dungeon synth.
What is your background in visual art?
I have had no proper training in art but it is something that has always been of utmost importance to me since as long as I can remember. As well as music, nature and magic. I have done a lot graphic work over the years but have always tried to keep it much like folk art. Screen printing, hand made zines, pencil, pen, ink and some paint. Though drawing is something I just started doing very recently. I did attend a boarding school in the mountains of New Hampshire many moons ago which focused on self expression and creativity. There I was able to experiment with printing, pottery, batiik, weaving, metal and woodwork. We would have classes on the Dark Ages and many different mythologies. I am very fond of this time in my life as I was finding myself running amok in the forest discovering the occult and psychedelics. My friends and I would make dwellings in the trees, have bonfires, perform makeshift rituals and get drunk on home made hard cider for days at a time.
Is there something about folk art, or outsider art, or raw art that you enjoy over fine or trained art?

I prefer folk and outsider art because I feel it speaks from the heart and other unfamiliar realms of the mind. Something made by any means. In my opinion art and music should be made because one cannot help it or as therapy. Also to incite change. Life is transient and along with the wonder and preciousness, there is so much melancholy and strife. When I look at or create a piece of artwork I want to see, hear and feel that. I want naivety alongside nuances. For me, when one works with limitations and breaks the rules, new ideas arise. I am one of those believers that true art emerges from struggle. I also think people are terribly dependent on computers and I think it is important to detach and do more with our hands. So many art forms, techniques and trades are becoming lost in the past. These traditions as well as mystical beliefs should be passed on and new ones created.

Your work has been in the medium of handdrawn patches. How did that start and what do you like about the process?
I wanted to make a patch for one of my jean jackets and wanted something unique. I tried to draw an image that for me encompassed Dungeon Synth. I shared it online and received positive feedback, so I started to make them. The intention was to hearken back to the days when if you wanted to support your favorite obscure band and there were no means to acquire such an item, one had to make it themselves. Also as a reaction to how almost everything seems to be co-opted, gobbled up by trends, mass produced and spat back out. I wanted to make something for those who preserve the arcane, something special, keep a value alive as it were. Each are limited, hand drawn and one of a kind. Some came with the ElixiR from France – Moonlight on Black Castle debut cassette release and will also be included with the ElixiR – The mage of Bright Forest Cassette release that is just around the bend on the Murder on Ponce tape label. The next printed issue of the Dungeons of Darkness Zine will also have some as an addition. They were first to take notice of my drawings.
How did you become associated with Dungeon Synth?
It happened by chance and organically. I found it rare that many in the budding community sometimes share their music and art as works in progress and I felt welcome as there was interest in my drawings. It was from this spark that I started to draw, inspired by the music. I listen to Dungeon Synth, Black Metal, Epic and synth heavy Fantasy Metal when I draw. So I wanted to then share my work as it evolves. I haven't drawn since I was a kid. I think my themes, cryptic and minimal style appeals to those in the genre and I feel I finally found a home for my work.
Your work is being seen and featured by a handful of labels, artists, and zines throughout the community, how has it been going from drawing a few patches to being featured in Barbarian Skull and doing record label logos?
I am quite taken by it and very honored as well as excited and enthusiastic. I am proud to be a part of something I love and relate to. Being asked to draw comes as validation and makes me happy and motivated. The impetus comes from that encouragement and pushes me to march forward. I have been a supporter of the Black Metal underground in the shadows since the 90's and a similar burning spirit is reminiscent with pro and self released limited demo tapes, split albums, printed zines, hand made merch, independent labels and distros. We have personal correspondences and a worldwide network which is immediate now. Thanx to the web as opposed to the olden days where we would have to often wait months for a response, if any. Dark Dungeon and Dark Ambient was begat of the fires of Black Metal but over the years has grown, lurking in a netherworld. We are experiencing the early stages of a new flame and entity. Being a part of it ablaze is impelling. I was asked to conjure a new logo for Haftvad Records as they will be sharpening their sword by releasing more Dungeon Synth, Black Metal, Death Metal and then some in the very near future. I will be working closely with them on some other projects. I scrawled a crest for the Out of Season label and distro as a gift for their great work. I was approached by Witch King of Angmar from New Zealand, scrawling a logo and elements for the upcoming demo release on Swampkult Productions. Also requested, was an emblem for Thangordrim which will be a piece that evolves over time. I am presently drawing borders for the next Barbarian Skull Zine and will also be submitting a page of my own. I will be drawing the cover for ElixiR's third album titled Elvenpath. This evening I will take a stab at a logo for a new and obscure French Black Metal band called Volmog. I couldn't be more pleased about all of this and have many more tricks up my sleeve. Let it be known that I am ready for any challenge and this is a movement I am dedicated to.

Do you ever see yourself manufacturing these patches maybe printed or embroidered patches of your designs?
One aim of sharing my drawings as I do them is to see what resonates with others. Many are mere ideas and will take on new life once applied to artwork layouts, inverted and printed onto black fabric for instance. Two that won the best reception are the "Mask of Gardon" and "ZR-80" which is a synth/organ hybrid craft that floats when played and flies fueled on melody. Most of the subjects in my drawings are characters and scenes from a story I wrote. I plan to burn these two drawings I speak of onto a screen and print them by hand here at home. I am obsessed with the patch as a format and would really like to see my drawings as woven and embroidered versions. Some of my logos and drawings for bands and labels will be on shirts, patches and badges. These are in the works now. Please do keep your eyes peeled.

Is there any chance of getting you to work on a large back patch for a dedicated dungeon synth jacket?
Yes indeed! I want to scrawl an evil and epic pagan fantasy sci-fi back patch that will tell a story of maidens and mythical beasts that rampage through history.
What has been some personal favorite dungeon synth artists both recent and classic for you?
A few of my personal favorites are Lamentation, Caduceus, Solanum, Depressive Silence and Lunar Womb. I can't wait to at last own a copy of Forgotten Pathways – Shrouded In Mystery. It appears that so much care is going into that re-release. As far as recent artists, I really enjoy Sequestered Keep, Thangorodrim, Moaning Shadows, Taur Nu Fuin. I am anticipating what Witch King of Angmar reveals. I must say the Grimrik – Die Mauern der Nacht album was a major step forward in the genre. As well as Sanctuaries – Echo 2 – Les Esprits sont Étoiles aux cimes de la Victoire and Forgotten Kingdoms – Blue Moon Gate Between Worlds. I could go on, Trogool, Talog, Morketsvind, Hrungnir, Barak Tor, Exclamavit, Foglord, Elador, Nerevar,,, on and on… many that are escaping me at the moment.
How do you feel about the community that has been blooming online that you seem to be right in the middle of?
I find it to be unpretentious, supportive and drama free which I feel is very important to the growth of artistic endeavors. No one likes sour grapes. At least I don't. I get a true sense of brotherhood which can be scarce these days. Though reclusive by design, loners may need someone to talk to from time to time. This is a far cry from the misanthropic and hateful origins of most Black Metal related genres. For me this is a breath of fresh air for a burgeoning art form that is unfolding in front of our eyes.

When you are not making patches and logos, what could people find you doing with your time?
Drinking a lot of tea, smoking too many hand rolled cigarettes, plotting and planning, walking around the woods and sea side, making music, ordering records, tapes, cd's and merch from underground distros around the globe. Hanging out with my girlfriend, gardening.

Tell me about some of your favorite plants in terms of your garden.
The vegetable and herb gardens are the labor and creation of my girlfriend Kriss, really. I am just lending a hand. We are lucky to eat from them and wish this harvest very well.* I tend to the roses, terrariums, air plants and succulents. Lithops are my favorite. I am partial to our nightshades; Ugly Tomatoes, Eggplants, Peppers and wolfberries. Rhubarb and Poppies remind me of my childhood.
Lets say you are playing in my tabletop RPG game. What system are we playing and what character are you making? What can we expect from you as a character?
I must admit that I have sadly have never played a RPG game though I have always wanted to. As a kid I would collect Dungeons and Dragons miniatures but never had the chance to partake. My child therapist would buy me one if I had a good week in school. Honestly, there weren't many other kids in my neck of the woods that were interested in that sort of thing. I missed the boat on video games too. I did hang out at arcades a lot. I loved Dragons Lair. You know the one that was animated by Don Bluth and was of Laser Disc technology. Other than that, just Tempest. But, if you were to create a Post-Apocalyptic/New Utopian Role Playing Game where one could pillage, plunder, build structures and farm, I would surely be a shape shifting sorcerer and seer. I'd certainly be wearing a cape, riding a chopper mini-bike and armed with a flame thrower.
Do you think dungeon synth could ever exist in a live setting. Particularly could you see yourself at a booth at the first ever dungeon synth open air (or castle) fest.
I do. I think in the proper setting it could be perfect. I think we must re-invent and find new forums for music performance. Preferably open air, castle, dungeon, church, hall or basement. One could sit, lie down or dance. A library or tomb could also be suitable. I would inflict a "no cell phone allowed" rule myself. And yes, when this festival comes to fruition I will be there without a second thought. I would hope to see merch tables offering records, tapes, cd's, videos, books, games, patches, pins, clothing, jewelry, leather work, weaponry, synths, magical implements, minerals, medicinal herbs, crafts, fare, gluhwein, mead and ale, ax battles, the whole nine. A barter system could be interesting too.
What are your plans for the future in terms of art?
I try and draw everyday now and hope that I will continue to be asked to work with other amazing artists and musicians on their projects. Don't be afraid to ask. I welcome the journey and the mystery that eludes me. I plan to one day soon release a hand bound book of collected works narrated by the tale of the Hollow Myth. Dehails!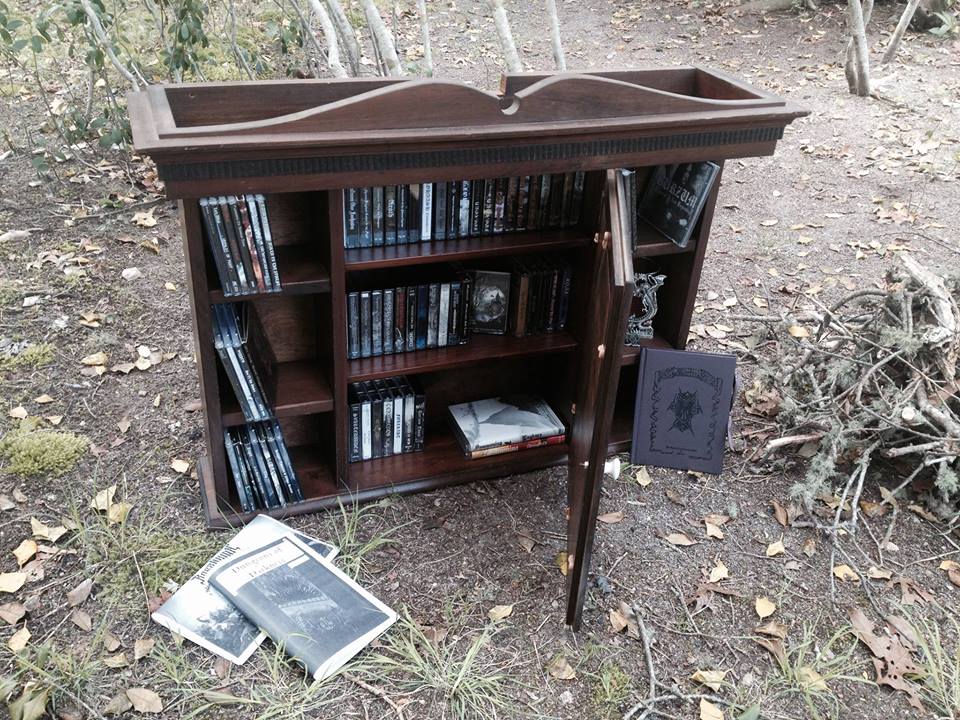 Canrith Know can be found at his Tumblr page as well as Facebook. Above is his personal dungeon synth collection which includes strange and wonderful artifacts.
Tags:
Dungeon Synth
,
Hollywood Metal
,
Kaptain Carbon
Categorised in:
Dungeon Synth