2015 was an important year for me, personally, since this was the time when I really fell head over heels for a style known as dungeon synth. If you have been reading my digests, interviews, and features regarding this genre, then you are already aware of my praise of this genre. If you are new here, then let me give you a condensed version of dungeon synth: a very small genre of mostly solo musicians making bedroom fantasy music on synth machines. There. Pretty simple right? Unfortunately this seemingly simple genre has a profound effect on interest and also possesses the capability of cornering interests for an entire year.
2015 was the year in which I found many dungeon synth musicians both current and past. Most of the records I have found range from 1995 to 2015. This list is my top 5 favorite dungeon synth releases of 2015, broken into the areas that I most enjoyed. This was not all of the dungeon synth material that was released in 2015, nor all that is currently available, rather it represents a good start in a journey that does not seem to be stopping anytime soon. Throughout many digests and interviews I have made mention that it is the escapism and dedication to craft which most interests me. Even with music without a dense fictional world attached, there exists in all of these a comfort in the music both made by the musicians and shared by its listeners. I wonder what 2016 is going to be like since I only really got started with dungeon synth halfway through the year. I am sure it will just be as ridiculous and magical as 2015.
Erang – Tome X / Kingdom of Erang
Erang was my guide into dungeon synth. It is understandable how this artist would have an important place in my memory when recalling this year. I came across "Within the Land of My Imagination, I am The Only God" in late 2014. It was not until March when I listened to Kingdom of Erang. It took me the early part of 2015 to understand what I was listening to, and it was magical. Here was an artist making soundtracks to an entire fictional world complete with characters, storylines, and maps. Kingdom of Erang and Tome X represent the last records made in the "third age," which is a fictitious time period set in the fictitious Land of the Five Kingdoms. I have chosen Erang not only for its personal connection with my discovery of dungeon synth but also because of the balance between many elements of the style. From droning to dynamic, Erang's music can travel from the magical to the dreary all with a sense of wonder and imagination. Once one gets past the seemingly goofy album art, with weird faces and castles adorning the covers, then a world of mystery awaits. Perhaps it is right that the covers for Erang's music look so odd and idiosyncratic. May be they are a test of faith or a visual of the suspension of disbelief one has to endure before entering into the world of dungeon synth.
Lord Lovidicus – Book Of Lore – Vol. I
Lord Lovidicus came in tandem with Erang since the two share somewhat similar approaches to dungeon synth. While there certainly are strains of droning atmosphere, some artists chose to make their more ranges dynamic and regal. Lord Lovidicus comes from a classical background and began this project with the intention of celebrating far off lands. The Book of Lore is Lord Lovidicus' 14th album since 2009 and is entirely dedicated to the stories found in Tolkien's Silmarillion. This focus enhances the record for fans that were willing to go beyond The Lord of The Rings and The Hobbit and delve deeper into Tolkien's Legendarium. What greets those interested parties is music fitting of the first age of elves and man. A world that is both comforting and inviting to those wishing to escape.
Abandoned Places – The Funereal Call
I have chosen Abandoned Places 8th and final record as a tribute to the temporal and sometimes obscure nature of the genre. Here is an artist who has no information available save for these bandcamp pages that has been releasing one or two records a year to the celebration of only a few. Abandoned Places music has gone from a morose variety of synth drone to an almost devastating abandonment of form and melody. Additionally, the songs on each album have been getting longer while their track numbers have been diminishing. From the first 11 tracks, with manageable tracks lengths at 5 minutes, to the single hour and 17 minute self titled track at the finale, Abandoned Places has created a succinct production that is both laden with emotion and indicative of creative fulfillment. The Funereal Call is an act coming to an end but done so in such an interesting way, and to the audience of almost no one, that it is hard not to feel the chill of loneliness in the field of creation. Soon everything will be gone and few people will care.
Ulgard – Songs For The Wanderer
Ulgard is from the US and, I believe, at one time was a black metal act. I say once because the last few releases from Ulgard have been stylistically flung into a field of dreamy flowers. Songs for the Wanderer is the debut album from the artist who released a similar sounding EP this year. While Songs for the Wanderer has its share of fantasy hooks and references, Ulgard is unique not only in its production value but its full embrace of airy atmosphere. Long past are the plinking sounds of heavy synth to imitate wandering string instruments and bird calls. Ulgard shares the same structure that is indicative of dungeon synth in that it meanders through landscapes sometimes with little direction or bearing. All of this is perfectly alright as Ulgard has the ability to create mood and feeling akin to comforting words for his listeners. It's not Moria nor Lothlorien, but rather a peaceful and neutral place between. Perhaps a quiet grove where one can watch the changing sun.
Medhalan – The Minstrel's Fireplace Tales
The last selection is from Medhalan, which was chosen due to their sound nailing down the style formula of dungeon synth. This may sound strange but dungeon synth is such a rich style of imagination and character that even when an album does exactly what it is suppose to, the feeling is wonderful. Medehlan's very short release has triumphant synth, a bedroom feeling, and themes that march through high fantasy. The minstrel's Fireplace Tales comes in the middle of multiple 2015 releases from the artist, each with various approaches to the style. While most of Medhelan's work borders on the droning edges of the style, The Minstrel's Fireplace Tales is pure escapism and would be a lovely place for one to start their journey into dungeon synth.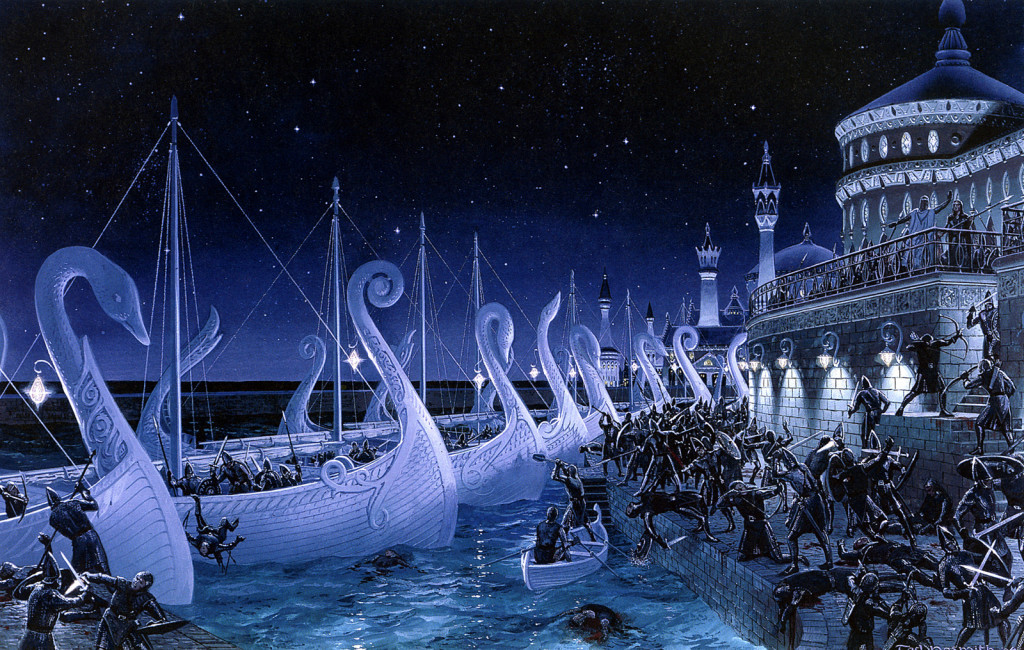 Tags:
Dungeon Synth
,
Hollywood Metal
,
Kaptain Carbon
Categorised in:
Dungeon Synth