Faster than Sound.
I enjoy art. Obviously. I enjoy heavy metal. I enjoy heavy metal art from a variety of different bands. Sometimes I enjoy talking about these covers as a way to not talk about the music. Sometimes I like to do both. Sometimes great bands have great covers. Sometimes not so great bands have great covers. Sometimes great bands have terrible covers. I enjoy seeing it all.
From illustrators to painters to designers, these are the men, women, and others who make the first impression for people who see the art before anything else. Faster than sound, artwork has continued to be an important aspects in heavy metal's history. these were my favorites for the year presented without any order and sometimes meandering in conversation.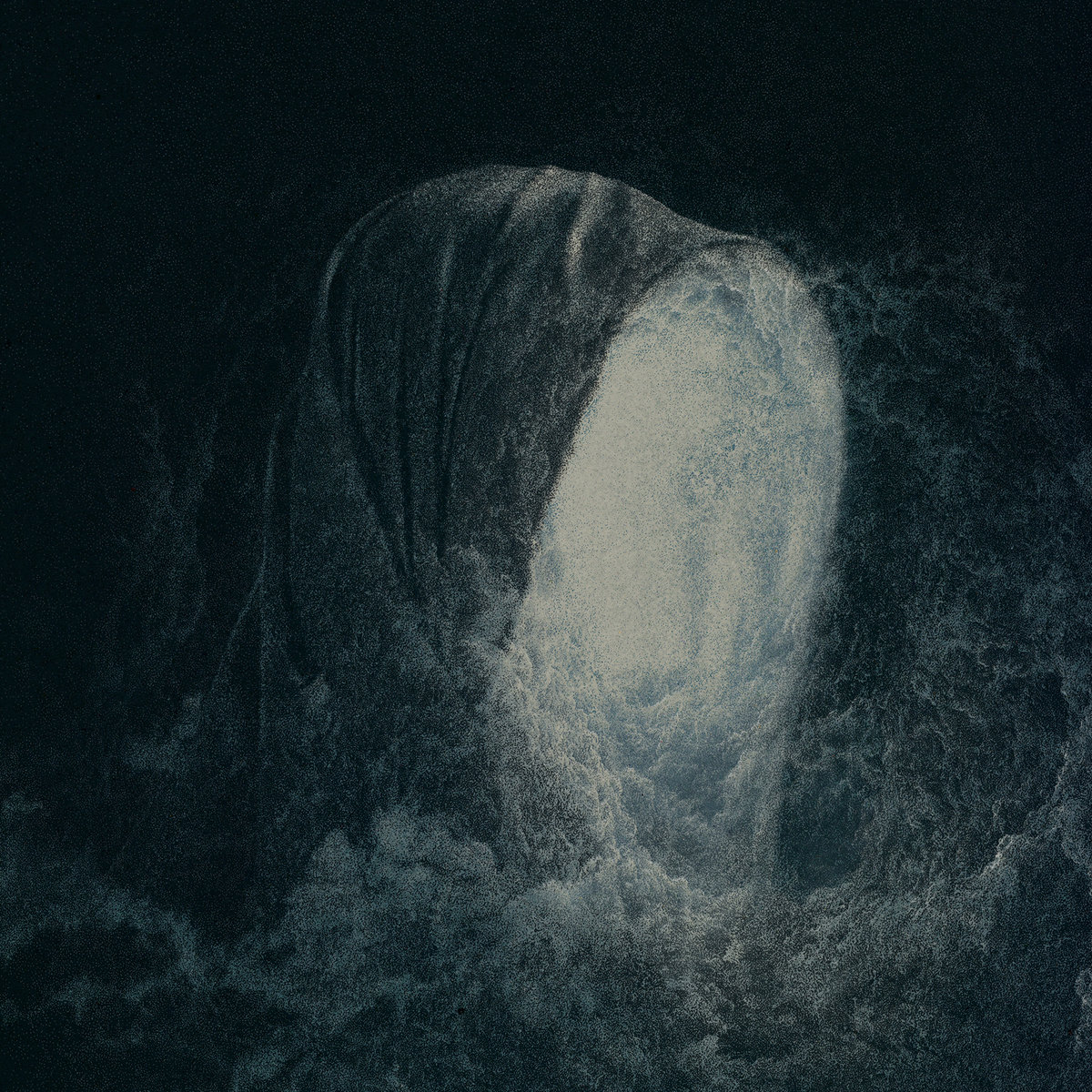 Skeletonwitch – Devouring Radiant Light // Artist: Stefan Thanneur. Perhaps one of the best things to come out of this Skeletonwitch record was a strong and solid album cover. Skeletonwitch used John Baizley as their cover artist until 2013 but has been shopping around for different aesthetics. This is the first time the band appears without their thrastastic logo emblazoned on the front and its minimalism is harrowing. I just wish the music was as good as its cover. I maybe being judgmental but it is not.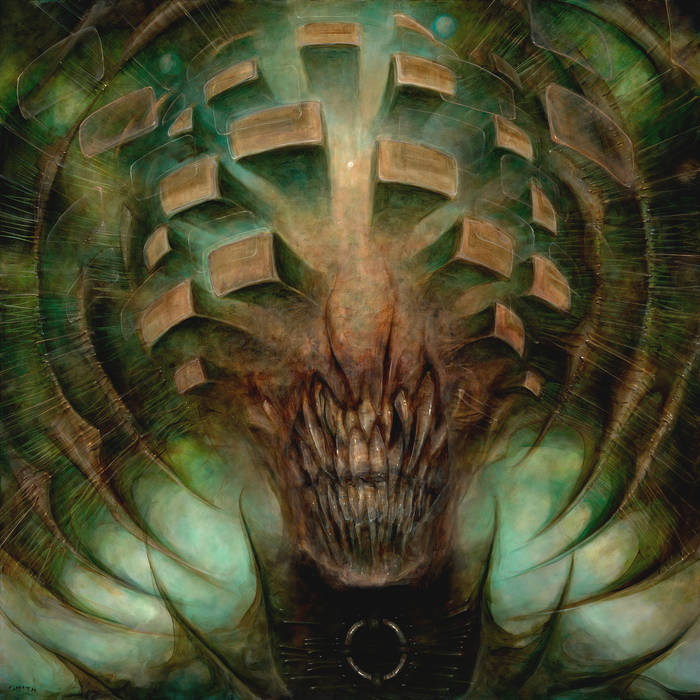 Horrendous – Idol // Artist: Brian Smith. Stunning psychedelic art which fits the weird angular death metal of Horrendous. Despite not enjoying Idol as much as previous installments from Horrendous, the work by Smith is always welcome and the cover for the record is the best yet. Smith's color palette and use of floating shapes are out of this world and possible realm.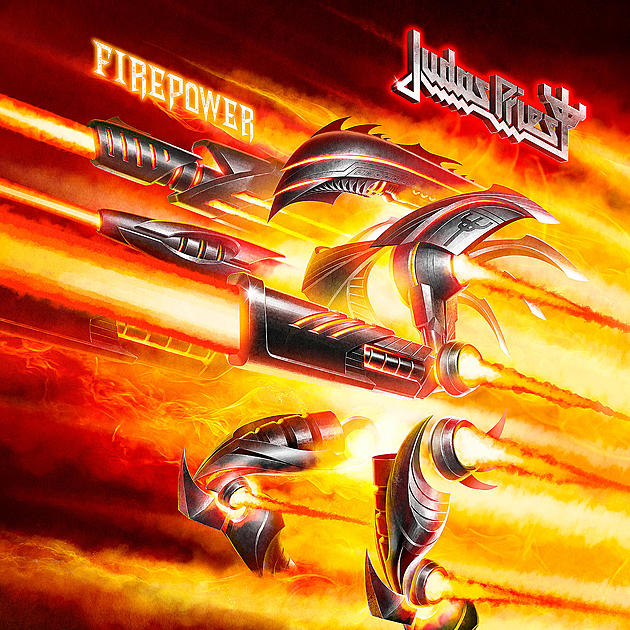 Judas Priest – Firepower // Artist: Claudio Bergamín. One of the more interesting aspects of Bergamin's portfolio is the Firepower artwork being top tier in both client and quality. While Bergamin's other stuff is fun, there seems to be a divide between text / artwork placement which feels so natural in Judas Priest cover and not so much in others. Regardless, enjoy a world of tanky robots that fly at the speed of heavy metal. To go along with this album cover is an actual album that is full of great heavy metal.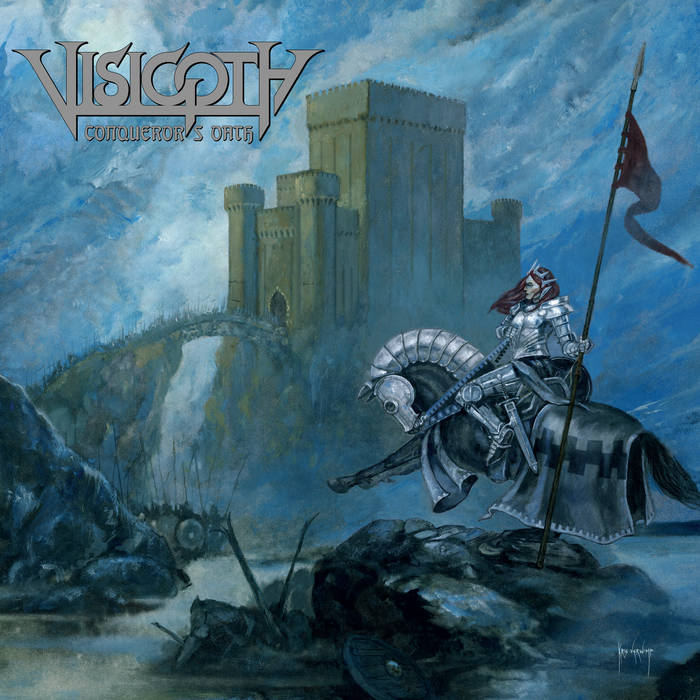 Visigoth – Conquerer's Oath // Artist: Kris Verwimp. Not only is this record strong but the artist used for the illustration has an intimidating catalog of past clients including Absu, Immortal, Horna, Melechesh, and Uada's most recent cover. With an art style that is distinct plus the calm collection of someone who has been at work for ages, Visigoth becomes more and more solid with each fact uncovered.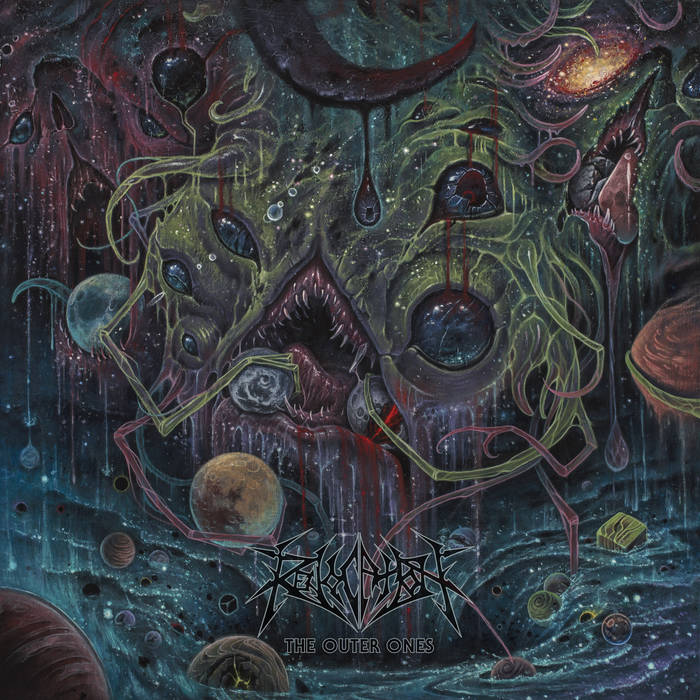 Revocation – The Outer Ones // Artist: Tom Strom. This is such a mess. I love it. Storm does not have a long career. In fact, he has only done three Revocation covers along with various internet pieces. Despite not being a big name among the metal community, Storm's art is dazzling and the cover for The Outer Ones is Lovecraftian in its dense approach to color and line which then turns out to be the only thing I enjoy about this album.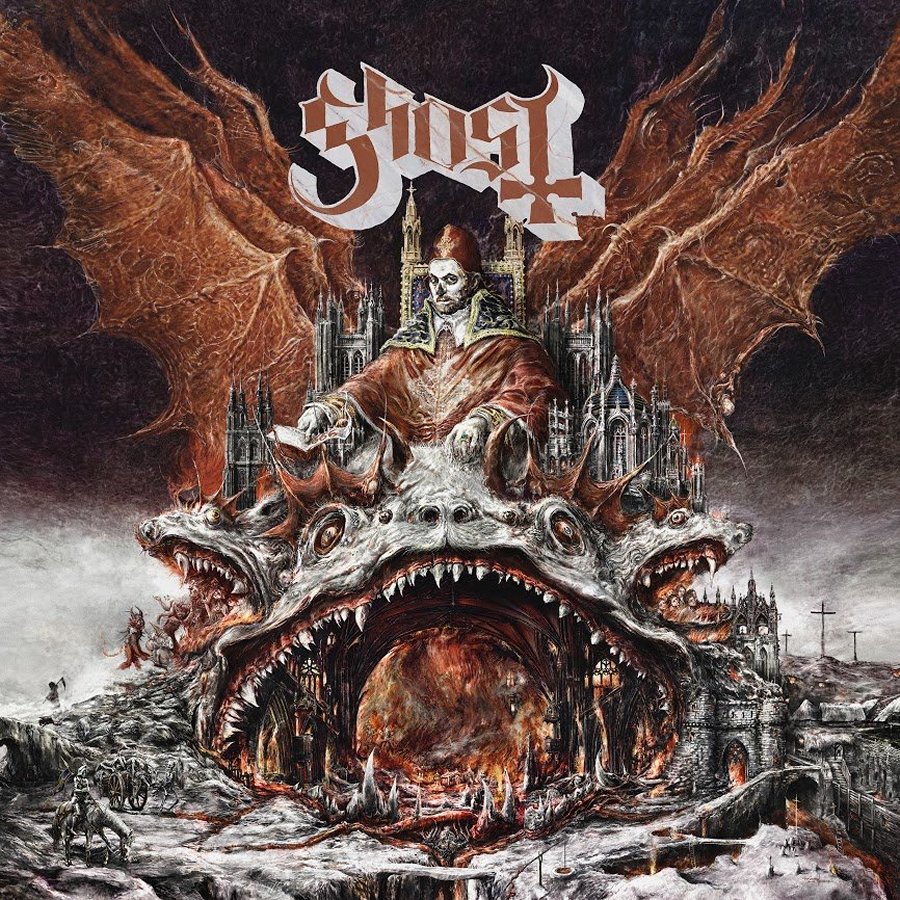 Ghost – Prequelle // Artist: Zbigniew Bielak . Speaking of an artist who has intimidating list of clients, Bielak maybe the aesthetic face of Ghost's covers but his work can also be seen in high profile covers from Behemoth, Destroyer 666, Absu, Craft, Gorguts, and a handful of others ones that regularly appear on end of the year lists. Ghosts records have always been fun which match the music and Bielak's detail is also intimidating to say the least. Large prints of this cover are for sale from the artist for anyone interested which again look intimidating.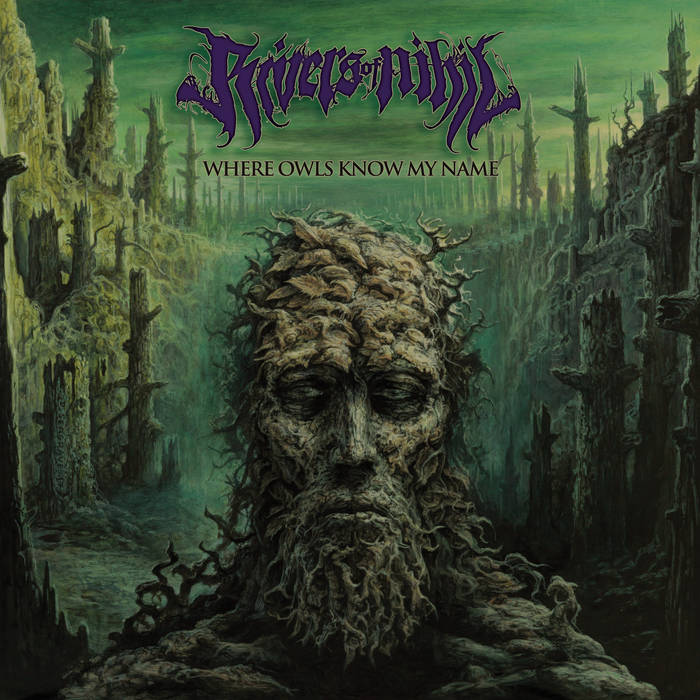 Rivers of Nihil – Where the Owls Know My Name // Artist: Dan Seagrave. Before I gush about Seagrave being one of most iconic cover artist in heavy metal history, I want to say that I find this cover interesting despite the befuddling choice of logo color. With that said, If you have no looked into Seagrave's art or know about his place in the festering halls of death metal history, click on the link above and be transported to a world of misery and beauty. Why pruple for the logo? Why not just grab a color that is already in the painting?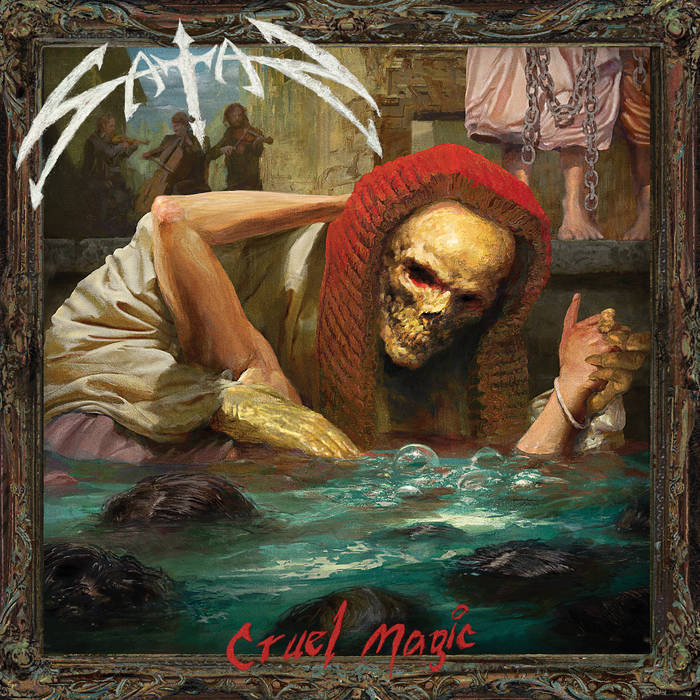 Satan – Cruel Magic // Artist: Eliran Kantor. One of the most academic and painterly of the illustrators comes from an artists whose clients sometimes do not match the level of esteem of their covers. Satan is completely deserving of the cover from Kantor as their history matches the classical approach to album covers. Others, no so much. The header image from Sigh's Heir To Despair also comes from Kantor which is another band deserving of his approach to art.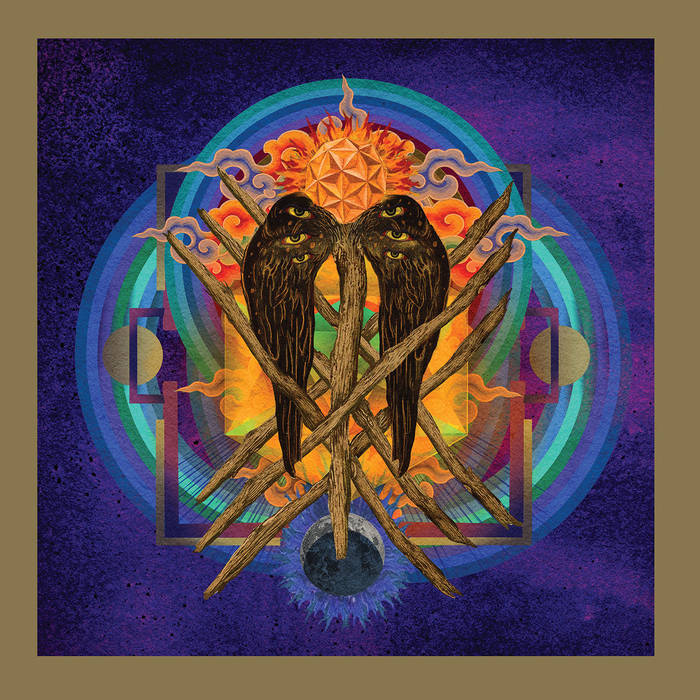 Yob – Our Raw Heart // Artist: Orion Landau . If it comes from Relapse Records there is a good chance it comes with a cover from Orion Landau. Landau has actually only done two covers this year for Relapse with Obscura being the other. Despite this being on the outlier of the metal aesthetic, Landau knows how to design covers and coming from a fellow designer it is awe inspiring.
Tags:
Art
,
Artwork
,
Fantasy Art
,
Hollywood Metal
,
Kaptain Carbon
Categorised in:
Art