This year I have talked a lot about Dungeon Synth. An absurd amount to be precise. I think I have talked about Dungeon Synth more than other genre at my first acquaintance with them. This all happened because I stumbled upon Erang, which led me to his private Facebook group, which led me to multiple albums of ambient electro medieval music, which led to the short stories and maps, which led me down farther into this weird cavern of wonder. All of this led me to seek out more material, which included labels and blogs, which eventually led to the zines. Perhaps it is because this genre is still obscure and followed by a small group of devoted fans of this fantasy ambient music. Perhaps it is just the fantasy aspect combined with the overbearing sense of nerdniness. Whatever it is, I love it.
Dungeon synth began out of dark ambient and black metal in the mid 90's and is entirely concerned with bedroom musicians making lo fi fantasy with synth. These pieces usually are connected to constructed worlds and universes, and serve as soundtracks to the creator's imagination. Some early progenitors of this style was Burzum's 1997 prison record Dauði Baldrs, the collected work of ex Emperor lyricist/bassist Mortiis, and possibly the soundtrack to a 1991 Italian Fantasy television show. Despite the accessibility of the internet, Dungeon synth is still an obscured style with only a few blogs, channels, and zines devoted to its sound. Masmorra means "Dungeon" in Portuguese and is the name of a self published 2015 paper zine that is entirely dedicated to all aspects of lo fi escapism. This year could have taken a different turn had I not become enveloped in Dungeon synth. This year I have talked a lot about Dungeon synth and am now a proud owner of copy 85 out of a 100 of the Masmorra Dungeon Synth Zine.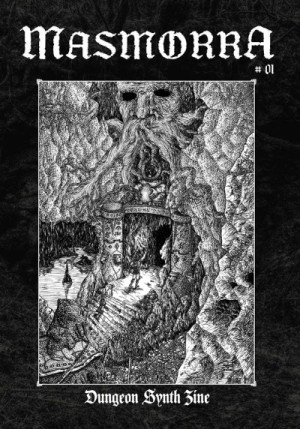 The Masmorra zine is a small 25 page black and white publication that comes with a small poster of the zine's cover plus a compilation cd of some of the music discussed in the issue. Some of the major artists discussed are Erang, Foglord, and Hedge Wizard with the rest being less known. The publisher, Romulo, shows up as one of the musical artists under the name Iami with a delightfully hazy track on the companion cd. Additional features for Masmorra #01 include interviews with Dungeon Synth Musicians like Skwpseian, reviews of Dungeon Synth records, ads for Dungeon Synth labels, musings on video games like Myst, and random drawings from J.R.R Tolkien. If you are still peering with unconvinced caution, this is the sort of atmosphere that makes this genre so wonderful. It is difficult to discuss the merits of Masmorra without praising its very existence for even being available to people.
The choice to put this material out in a mail ordered paper zine from Brazil is only a testament to an aesthetic. Aside from the idiosyncratic anticipation that came from waiting for a physical magazine, the companion disc allows readers and listeners to seek out lesser known artists, which in turn leads to further discovery. The idea of a zine, originally, was to give niche readers niche information based around certain interests that they could not get elsewhere. While the internet has replaced this, the Masmorra zine stands in a vacuum untouched by time. From a purely informational standpoint, this zine has done more for my knowledge on dungeon synth than sporadic research. The inaugural feature "What is Dungeon Synth," showcases a surprisingly well crafted love letter both to fantasy and retro escapism. The feature acts as a celebration and christening to a voyage that takes the reader to a very strange and wonderful place.
The first issue for Masmorra is already sold out, according to its very enthusiastic creator. From scant reports, the second issue will be out sometime around late Fall/early Winter of 2015. This year has been a wonderful and wild time for a musical style that sounds quite the opposite of high action. The Masmorra zine is something that I did not think I needed in my life, but now having it, I cannot imagine my life without it. If this is not your first time with dungeon synth, use this as a relief that there is more material being printed about the style. If this is your first foray into the genre, I can only wish I could see the look on your face. It is either a look of incredulity, shock, wonder, excitement, or a mix of all four.
Tags:
Dungeon Synth
,
Hollywood Metal
,
Kaptain Carbon
,
Masmorra
Categorised in:
Dungeon Synth