Spirit Adrift has been around for a while — if you count the later half of the 2010's as a while. This Arizona based doom band has been making records since 2016 and saw recognition for their 2017 record Curse of Conception. I think I remember that record. To be honest, Divided by Darkness was the first time I was introduced to the band ans fully saw the world they were offering. While some bands sell themselves on the promise of a genre fulfilled, Spirit Adrift chooses to use genres as tools that are bent the reflect their own world view. Spirit Adrift plays doom metal which has been far removed from the gloom and sullen nature of its predecessors. Here you will be greeted by heavy riffs and echoing vocals but working towards a mountain of redemption.
The story of vocalist Nate Garrett is a common one in the realm of heavy metal and rock music. From a teen obsessed with dark music and alcohol to a sober adult who has made use of his new found clarity with two popular heavy metal outfits. While sharing duties in the other Arizona based, Gatecreeper, Garett and fellow colleague Chase Mason have poured their cathartic emotions into Spirit Adrift. Similar to Gatecreeper, Spirit Adrift deals with personal as well as spiritual problems but unlike the nihilistic outlook of Gatecreeper, Spirit Adrift endures the trials and tribulations of resolution that ultimately ends in salvation. I felt drawn to the concept of Spirit Adrift and the use of music as logbook through personal troubles. While this is not new to the realm of music in general, the music for Spirit adrift and anthemic guitars feel as kindred spirits.
Musically, Spirit Adrift resemble the early work of Mastodon or Baroness with sludge/doom sent into a progressive ascent. I only make mention of these two other bands since they were the first to remind me of the style of music. Spirit Adrift is not a Baroness clone rather just making music in the same general sphere and by the dramatic opening of songs like "Angel & Abyss," it becomes clear this band is forging their own personal path. Compared ot the bands 2017 record, Divided by Darkness punches harder and its peaks are more dramatic. This is coming from someone who hasn't been following the band but has been pleasantly surprised at something I never thought I would be be missing without.
One final note about this record is the stunning album art by Joe Petagno whose work with a billion bands both metal and non has created a legacy of cool ass covers. The image of a spectral woman moving through a landscape of astral skulls is something that is very specific but can also be related to many plights and difficult journeys. The scene created by Petango is tied to his personal style which has been crafted over his decades of work but also feels personal to Spirit Adrift and seems to be made for this album. This is once again a moment when the band seems to be doing things sthat are working for them and having success at every turn.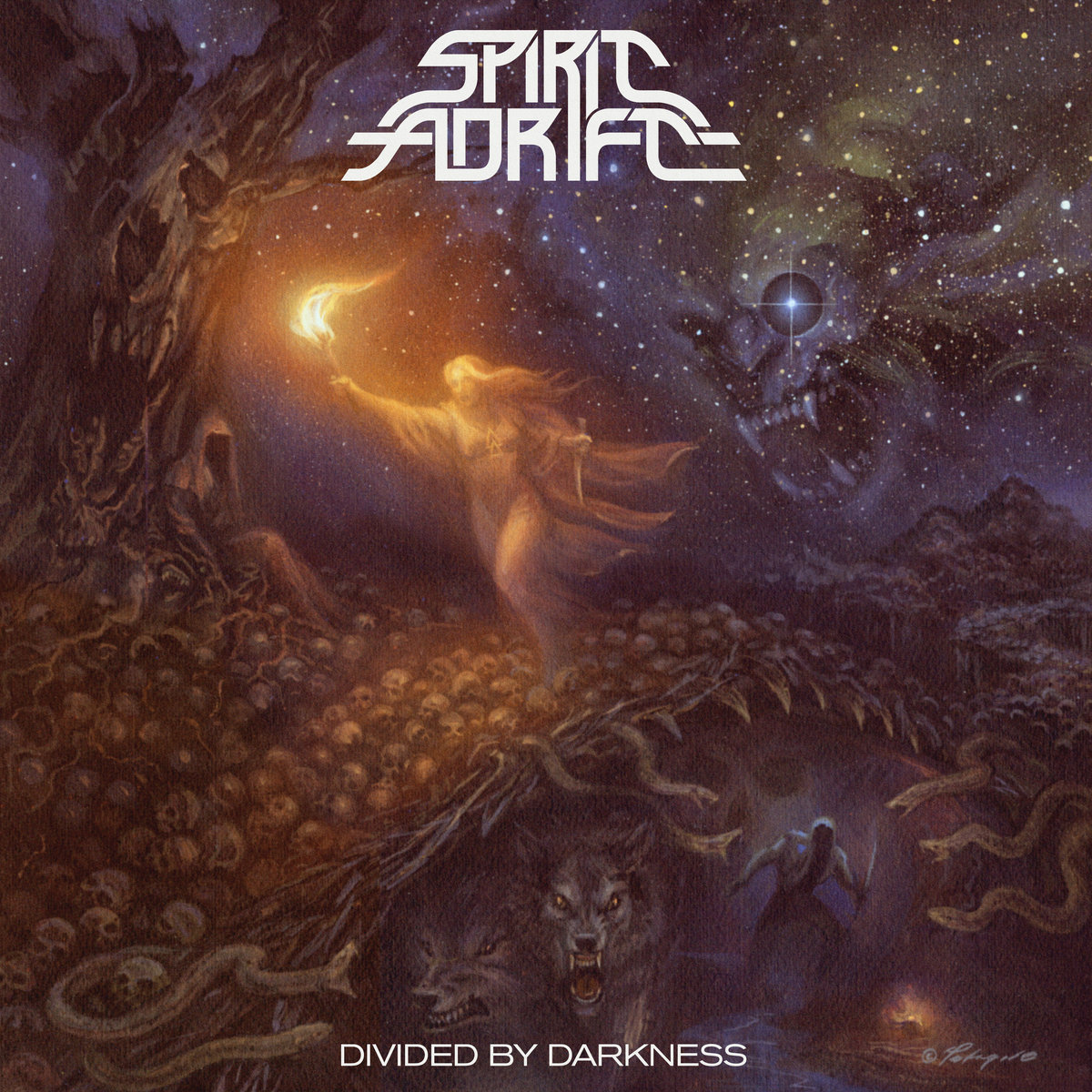 Tags:
Heavy Metal
,
Hollywood Metal
,
Kaptain Carbon
Categorised in:
Metal