Frank Frazetta was born in 1928 and left this world in 2010. He was survived by a career and legacy in fantasy illustration and painting. His renderings of heroes like Conan the Barbarian became a cultural image of fantasy we still retain today. This article could be about the work of Frazetta and his monumental impact on the realm of fantasy art. Unfortunately, it is not. Rather this article is about his magazine, which was released in the late 90's. Adorned with his full name, The Frank Frazetta Fantasy Illustrated attempted to replicate the success of other fantasy comic magazines like Heavy Metal and Epic Illustrated. With the tagline of "The World's Greatest Sci Fi and Fantasy Writers and Artists" the FFFI tried to make a new home for fantasy fiction in a time when that sort of thing just wasn't cool. I am not going to give any spoilers but this venture only lasted for 8 issues totaling one year of original publication. I adore Frank Frazetta but this magazine in an uneven and unfortunate silent disaster.
It is important to note that the template of the fantasy anthology has been a mainstay in the speculative tradition for many years. Fantasy anthologies exist now and have been relatively strong in both print and as webzines. Adult fantasy comics, however, are different and have only small instances of success. Birthed out of the spirit of pulp publications and the EC comic period, magazines like Heavy Metal, Savage Sword of Conan, and Epic Illustrated continued the speculative traditional, just in comic form. These adult oriented comics gave writers and authors a chance to tell mature fantasy without the restrictions of the comic code. Following the cultural tides of the 70's, 80's, and 90's, fantasy, in magazine publication, experienced a massive boost in popularity, which lead to a foreseeable decline in the 90's. This is when The Frank Frazetta Fantasy Illustrated comes in and tries to recreate something long gone.
It is also important to note that Frank Frazetta, despite having the magazine named after him, does not illustrate one panel in the first issue, or pretty much the rest of the publication. Aside from every cover being adorned with a classic Frazetta painting, (The Silver Lady (1972) for the first issue) the magazine has no relation to any Frazetta artwork. I am not so much disappointed that Frazetta's work is absent in pretty much all of this publication rather mindful of what this magazine is. Rather than start something new, the creators used Frazetta's name to put a larger flag on it to draw interest. I mean, here I am writing about it right? The subsequent material in the first issue however is either subpar or so filled with wasted potential that it leads to a bizarre experience watching a mainstay tradition struggle and gasp for air in a new decade.
I do not want to be entirely negative as the premier issue of the Frazetta Fantasy Illustrated has some wonderful talent. Richard Corben, illustrator for Heavy Metal, Wendy Pini, creator of Elfquest, William Stout, illustrator of cool ass looking dinosaurs, and Joe Jusko who did work on zillions of fantasy trading card games are all present in this inaugural issue. The idea was to have a mix between writing and artwork that would showcase both up and coming and already established talent. By the opening pages of Richard Corben's "Shadows of the Mist" however, things just do not feel right at all. In fact, I think this is going to be rouch from here on out.
Again, I want to stress I am not disparaging any one writer or illustrious talent. Corben's quasi sci fi comix blend worked very well in the pages of Heavy Metal but unfortunately feels out of place here. Also add in the fact the illustrator looks like he used a now outdated 3d rendering software, and "Shadows of the Mist" feels clunky. Things like Heavy Metal worked with its random showcase of idiosyncratic stories that celebrated the youthful energy of underground comics. The whiplash felt between stories like "Shadows of the Mist", the entirely abstract and artsy "Kabuki" by David Mack, and Joseph Michael Linsner's Blue Oyster Cult inspired sci fi postmodern vignette "Psychic Wars" seem to communicate less variety and more schizophrenic confusion. This also came during a time when that countercultural aesthetic made less sense than it did in previous decades. I feel it is important to note that the underwhelming nature of the Frank Frazetta Fantasy Illustrated shouldn't be compared to previous magazines, but rather shown as a model for what happens when there is an internal lack of focus.
The remaining issues for the Frank Frazetta Illustrated follow a strange pattern of traditional fantasy, abstract poetry, Frazetta tributes, and excerpts from upcoming fantasy novels. The table of contents for each issue looks packed with names like Alan Dean Foster and RA Salvatore which invariably leads to short blocks of text. The core serials like The Heldebrandt Brother's, The Emerald Seven, and Lio Leone's Infernus Terra provide momentary glimpses of stability before more subpar fantasy and head scratching poetry. The fact that the final issue has little explanation about its departure and a lack of content speaks to a company that never had a fair fight in the fantasy comic publication world.
It feels odd criticizing an obscure fantasy comic publication when the audience for said publication is already small. This is like being snotty about historic wooden solid hull ship modeling. With that said, separating adult fantasy comic publications that worked, like Marvel's Epic Illustrated, from things that didn't work, like this one, shows how the format is an artform rather than a wall of low brow entertainment. Frank Frazetta's legacy has inspired countless artists and writers and the fact his namesake magazine was less than amazing is not a disgrace rather a missed opportunity that could have been better. This review only covers the first issue so anyone interested is more than welcome to travel through the remaining seven. Perhaps one will find the Frank Frazetta Fantasy Illustrated just gets better with each issue, but something tells me that this will never be the case.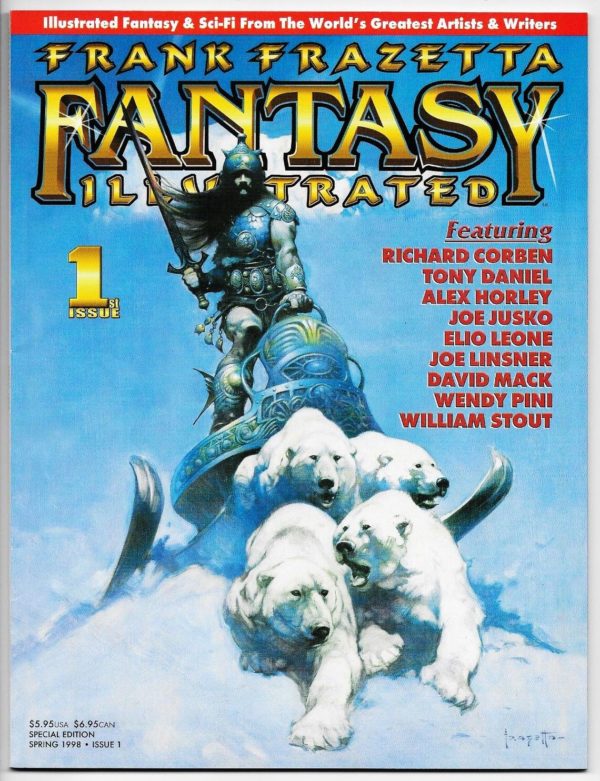 Tags:
FANTASY ILLUSTRATED
,
Frank Frazetta
,
Hollywood Metal
,
Kaptain Carbon
Categorised in:
Comics