This is almost becoming unmanageable. Usually when I scroll through Bandcamp new arrivals for dungeon synth, I can find 4-5 decent releases. This has been normal for around a year of doing these columns. This month, I was flooded with decent material and in fact was overwhelmed at the amount of new and interesting releases available. There maybe a time when I will need to do this column twice a month just to cover all of the music. This month is also very special because I not only have arranged all of the music ranging from very loyal to the dungeon synth style to the more experimental varieties but I have also found a space for new music by previously featured artists. Dungeon synth operates at a very sporadic and sometimes prolific pace so three to four releases a year is not uncommon and in fact is approaching the norm. Below the write ups are Bandcamp links of new releases from previous artists featured in this column. Use this as a way to refresh your memory or become acquainted with some masters of stone passageways.
I first encountered Splendoruis when I acquired the entire cache of releases from Dungeon Lore Foundation. Among the 65 releases, Splendoruis's Norfaragell-Thul stood out for its regal mysticism. It was both heartwarming and immersive whose music matched the desolate castle on its cover. Two years later, the mysterious Russian artist is back for another round of cryptic court music now with a cover art that still aligns with its music. On a throne of gold and jewels, the skeleton king sits and watches the procession.
Oldenhelm is from California and before the release of the Relics and Reverence EP due out sometime, the artist known as Shadowcloak has released a three song demo which is really centered around the longest song "Spells of Aeonian Starlight" which the other two sort of being a beginning and end to this haze crawling masterpiece. Oldenhelm knows where to sit at the big dungeon synth tqable. With a sound that is classic and a bandcamp background which is from the 3.5 edition of D&D, Long Lost Relics Of Power is a preamble to great things in the future.
Holy shit, this is amazing and long. Just by looking at the tracks, and lengths, one knows that they have stumbled onto something unique. At a staggering 3 hours and 30 minutes, Chaucerian Myth details every story in the Canterbury Tales. With some of the tales reaching up into the 17 minute territory, Chaucerian Myth is an exercise in meditation and devotion. While this work could have been easier probably with a more droning atmosphere, even the longest tracks fail to bore with enough changes in direction to keep interest.
This is wonderful and nice. Isenfeldt is from Russia and comes with two short EPs/rleases in 2016. Hall of Kings is the lighter and more celtic infused release which stands in contrast to the more hazy Self Titled release. Both records are great and both showcase an artist which has the ability to make hypnotic music in both the air and underground. If one enjoys the soundtrack from Skyrim, then Hall of Kings should not be that far of a stretch for you.
In a style of music that is dominated by fantasy, a deviation from the standard focus is always noticeable. Obscurium is a Brazilian starti whose hazy synth crawlers is accompanied by a deep devotion of Norse mythology. With runes decorating the Bandcamp page and plenty of bird calls and water waves to make a nature documentary, Obscurium is certain content with being left alone in the woods for awhile.
If you have not guessed, the further we travel into this review, the further we get away from the standard fantasy fare. Mount Voormithadreth is a four-coned extinct volcano and is the tallest peak in the Eiglophian mountains. It is the dwelling place of various horrors, including the toad-god Tsathoggua and the spider-god Atlach-Nacha. The setting was apart of The Hyperborean cycle, a series of short stories by Clark Ashton Smith. Voormithadreth, the musical act, is dedicated to the works of Smith with some far out synth scapes which are both somber and surreal fitting of one of the greatest writers of the 20th century.
We have reached the end of our dungeon synth journey into the borders of the grim and ambient. Anglezarke's music does not shun dungeon synth as a style as the music is very much in line with its predecessors. What Angelzarke does do is not rest content with just mimicking sounds rather uses DS as a starting point to something different. With samples and soundclips very much in the forefront, We Were Driven Below is a cross between dark ambient, field recordings, and dungeon synth. It is always interesting to hear different interpretations on this style even though I feel alone and scared and want to go back to the gaming table.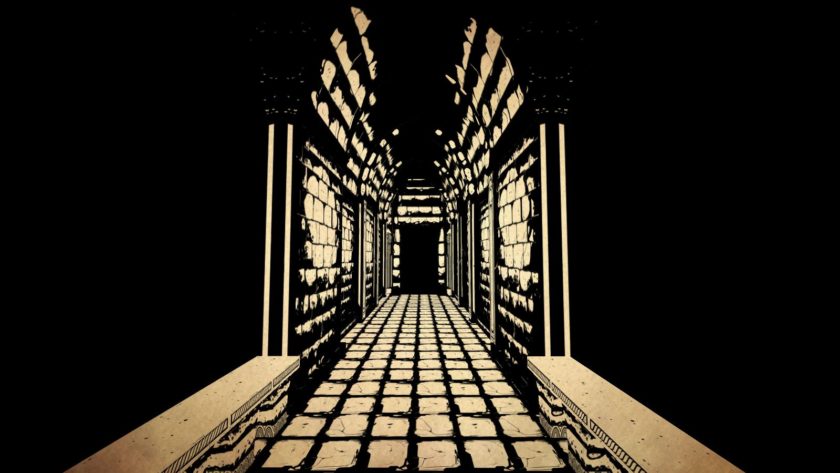 New Music from Previous Featured Artists.
[Featured Image: "Malik Shah's Sanctuary" by Raphael Lacoste]
Tags:
Dungeon Synth
,
Hollywood Metal
,
Kaptain Carbon
Categorised in:
Dungeon Synth