Okay, there is a lot to talk about. Even though Indian action movies haven't been explored on this site, Baahubali fits into any realm of interest for people who could adore epic narratives. Touted as one of the most expensive films at the time of its release, Baahubali: The Beginning unfolds the tale of love, betrayal, glory, and tragedy in a two and half hour introduction to the lays of a guy who can hit a lot of people using other people. Indian action films have a tendency to bleed into western culture by means of gifs and memes and finally sitting down and watching one of these films was nothing short of exhilarating. For a film that is one of India's biggest blockbusters, finally seeing it a few years later feels like missing out on a meteor that burned a hole in Southeast Asian cinema. Are you ready for some dramatic glares?
Baahubali: The Beginning is a Telugu film which is similar to the more popular named Bollywood just in a different language and also from India. Telugu is given the name Tollywood which over in the west is about as recognizable as the other derivatives like Lollywood, Kollywood, and Mollywood. Tollywood however was the first Indian film industry to base their name on Hollywood and thus inspired the now more popular Bollywood. All of this history in an action movie review goes to highlight the complexities of the Indian film industry as Bollywood usually encapsulates any musical based Indian film when the reality is much more layered. While Baahubali: The Beginning does have musical numbers, which seem to come out of nowhere, the film is not a musical and is an epic action film just with breaks for a flashy dance sequence. The film is unlike any of the other epic action film which dominated western box offices during the early 00's with the addition of some action sequences which are far beyond human understanding.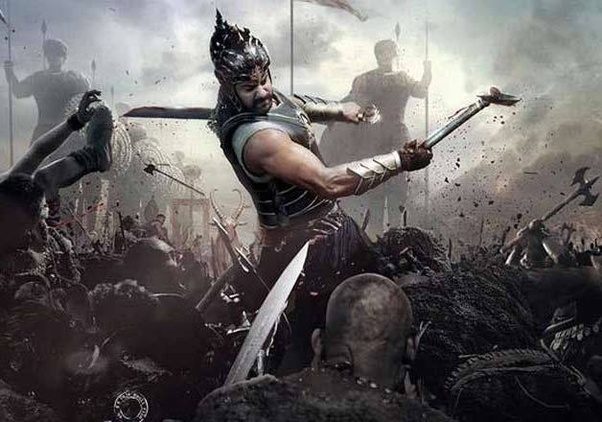 While Baahubali: The Beginning seems like a film highlighting the lays of a popular cultural myth, it is in fact a melange of different myths and historic figures as guidance but the actual story seems to be fictional. The tone and scope of the film mirrors cultural myths with the story of a destined warrior, political uprisings, and the deliverance of a people to greatness. When watching the film, one has to realize there are two stories in the first installment in this epic. There is a story of Mahendra Baahubal and his upbringing in a small village to an eventual messiah for a people under the rule of king Bhallaladeva. The film also takes a lengthy diversion with the backstory of Amarendra Baahubali, the father, and his royal upbringing in the kingdom of Mahishmati and his trials against his brother Bhallaladeva. Both stories follow the same trajectory in propping up a protagonist and his fights against a tyrannical and somewhat unbelievable villain. While the action sequences get to the point of absurdity with the effects traying to catch up, the pacing of the film never gets old nor does it get stale. Once audiences get past hurdles with names and faces, the film is a grand exercise in just how much shit they are going to put into a film.
Baahubali was released in 2015 with its conclusion released in 2017. The first installment leaves on such a hilarious cliffhanger that I was relieved when Netflix had the second. I was also pleased to see a slew of other epic Indian action films that could possibly fill a space i never knew was neglected. If one was looking for action, Baahubali has got you covered. If one was looking for grand battles to the scale of Lord of the Rings or Try, Baahubali is right there. If one was looking for stories which feel like epic poetry which has been passed down through generations, Baahubali is there. If one was looking for organic action scenes which highlight natural effects, well maybe we should skip to the next part. If one was looking for a movie that has the audience muttering to themselves: no he isn't…oh shit he did then hop on in your lawnmower chariot and enjoy the shit out yourself.
Tags:
Baahubali
,
Film Review
,
Hollywood Metal
,
Kaptain Carbon
,
The Beginning
Categorised in:
Film