If you have paid attention to the Dungeon Synth scene within the last few years, you have seen the work of John Bauer and more specifically his illustration "Ännu sitter Tuvstarr kvar och ser ner i vattnet" (Still, Tuvstarr sits and gazes down into the water). This watercolor was a favorite among Dungeon Synth fans for its vintage quality in fantasy art and the deep folkloric traditions of Swedish myths. The painting came in a collection of other myths which were published in the 1907 anthology "Bland tomtar och troll" (Among Gnomes and Trolls). This painting was popular at its time which was used in a shampoo ad in the early 20th century and later in the 90's as a cetnerpoint for a nature conservation campaign. For as relativity obscure John Bauer has become int he canon of art and even fantasy art, Tuvstarr has become a beacon for many people to find his work. Even though Tuvstarr has been used in various ways, the lure of imagination and myth is still potent today as it was over a hundred years ago.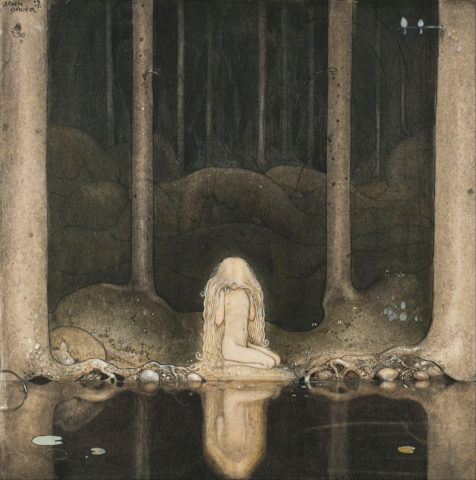 The life of John Bauer is somewhat unfulfilled and even deeply tragic as a story of an artist who spent all of his time reaping illustration commission with dreams of making high art only snuffed by the death of him, and his family, in a terrible boat accident in 1918. At the age of Bauer left behind a short career of magazine and book illustrations with his legacy being eventually lauded by fantasy enthusiasts in the next century. It is strange to discuss so few works when reviewing art but Bauer is an subject with very few variation to his name but a lifetime of illustrations. Theses works however have proven sufficient enough for praise and wonder leading to a legacy in visions originally made for children.
If one has never seen the other illustrations for Among Gnomes and Trolls, they would be urged to page through the thousand Pintrest collections who are sometimes the only repository for his work. Setting aside, the collections of John Bauer invites the viewer into the mind of a painter whose style is as entrancing as the stories it illustrates. The muted watercolor washes not only gives the scenes an earthy anchor bit its minimalism and surreal minimalism captures the dreamlike qualities of each of the stories. Each illustration is framed by atmospheric elements including frightening trees, endless darkness or shallow haze which frames its perplexing figures. The images herald the stories which are sometimes as surreal at its visual component as the text in Among Gnomes and Trolls are collections of both Swedish fairy tales and also Swedish versions of older folkloric traditions.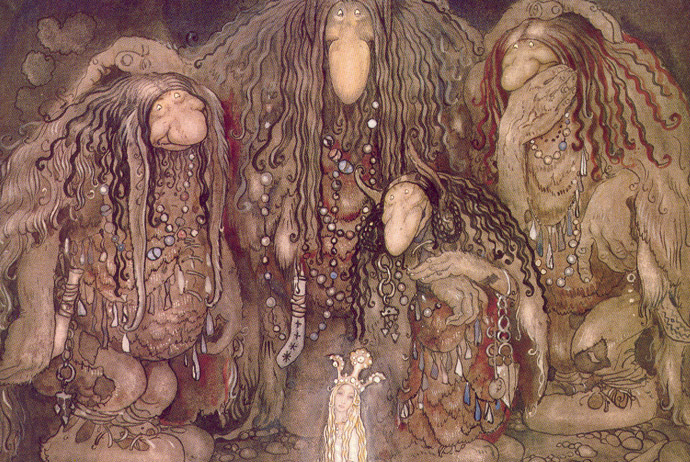 Folklore is a giant study. I actually feel inadequate to even go into the classifications and cataloging systems designed to keep track of the myriad of fairy tales and fantastic narratives which have retained its legacy in the minds of both nobility and uneducated. A study into folklore reveals the structure of human thought as it wrestles with metaphysical fears and desires. This is perhaps the draw for people into the artwork with fairy tales as their subject. There is something nostalgic and eternal about the subject matter that is whimsical on the surface but vast underneath its surface. For something that John Bauer saw as children's tales is a study that is philosophical and disturbingly poetic.
It is important to note that the series Among Gnomes and Trolls is an anthology and one that continued even after Bauer's death. The Bauer illustrations however, and the tales which were published from 1907 – 1915, remain some of the most popular due to Bauer's eventual legacy. The anthology however continued up into the 1980's with illustrators and writers contributing to the compendium of retelling stories sometimes as old as humankind itself. Perhaps this is the legacy of John Bauer that even beyond his most famous painting lies the innate desire to travel to places beyond the realms of the real.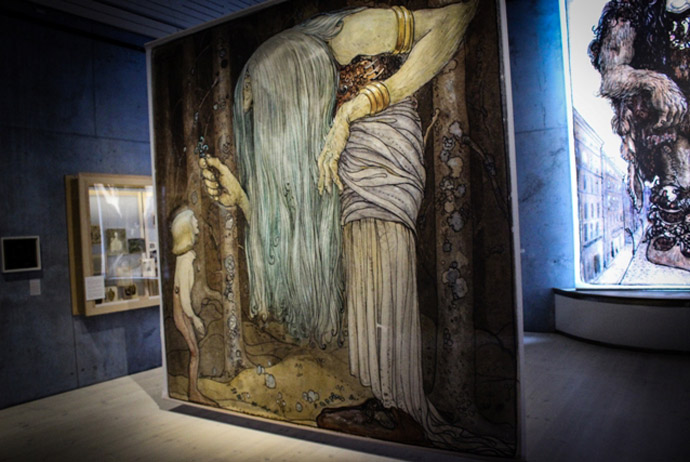 Tags:
Art
,
Dungeon Synth
,
Fantasy Art
,
John Bauer
,
Kaptain Carbon
Categorised in:
Art